Welcome to HEJ-Arkitekter
Hej, dear visitors!
We are a young international architecture office placed in Copenhagen.
HEJ Arkitekter was founded in February 2018 by Philipp Hesse as an international architecture company based in Copenhagen. In 2020 Mariana Cara d'Anjo joined HEJ as a partner and the office moved to Urban13, in Frederiksberg, where a growing community of creatives collaborate. Today, the office is lead by Mariana and Philipp and supported by different architects as co-workers in the projects according to the work flow.
We want to unlock the potential of the past to create a better future.
We complement each other's skills with our different educational and cultural background and work experience. These combined allow for openness to search for the best solution, by analysing challenges from different perspectives.
The awareness of our impact in the cultural heritage and social identity, as well as the one connected to the choice of materials, is always part of our work.
We strive to collaborate with different actors across the building sector and relevant disciplines so that the projects is inspiring for everyone involved, ending up with a coherent result.
At the moment, we are actively working with projects indifferent scales in Denmark and Germany.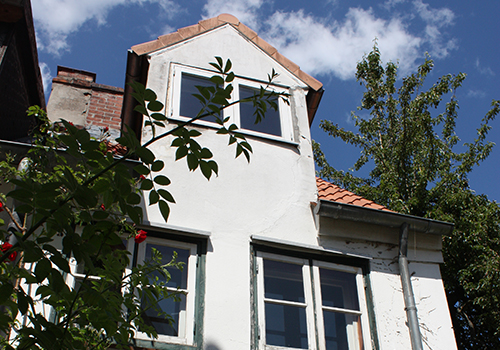 KalandsGang is an example of outstanding development of the Hanseatic city of Lübeck in the 13th to 16th century.
Providing three floors of just 42m2, the project transferred the so called "Ganghaus" (backyard house) to this modern apartment with the focus on empowerment and respect for the listed building in the center of the world heritage site.
Activating the unknown potentials and showing the layers of more than 600 years was the leading idea of the task.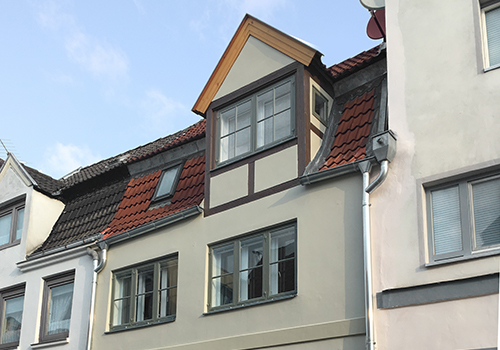 The historic old town island of Lübeck is since 1987 listed as UNESCO worldheritage site.
In the northeastern part of the historic artisan quarter, lies the project site of "Traufenreihenhaus", close to the former town walls and harboursides.
The renovation was planned according to the preservation of the historical building materials, in contrast with the use of incorrect materials and colour scheme used in the late 1980's work.
The colouring of the facade was finalised after a research in the city's archives, through different samples on site.
Denmark's west coast is an outstanding example of local architecture, traditional craftsmanship and use of natural materials.
The project's aim is to transform the listed building from an old countryside house into a modern family house with the possibility of private farming for the owners.
The project is currently in process, and a proposal will be presented to the client very soon.